Language for learning sums up our approach to promoting high standards of literacy at SJB as proficiency in language underpins success in every subject. It is every teacher's duty to insist on and support, not just the English department's, as "Every teacher is a teacher of English".
WRITING
We recognise 4 key aspects to language for learning – writing:
Talk model write (ensuring that students' model and draft prior to attempting a written piece)
Keywords are the key (promoting subject specific and expression appropriate vocabulary)
Expecting and using full sentences (when students respond orally to questions insist on full sentences; this serves to improve their mean length of utterance and consequently their language skills)
Bulletproof your work (A tool available on the L&T tools app to facilitate self-checking/proof reading work)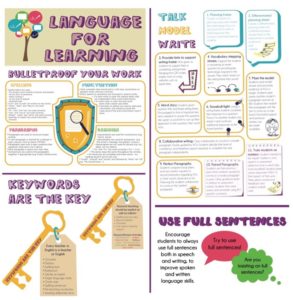 READING
Reading is of utmost importance for all students. It is the sole factor that can impede their success in school and in life beyond SJB. Reading can impact life expectancy, a child's happiness and can serve a key role in exposing students to content that they would not otherwise experience, apart from the strong correlation between a child's ability to read and their outcomes. It is therefore vital that, during their time, at school children are exposed to reading, especially comprehension, as much as possible. Reading is a process skill that is learned over time and requires practice.
In order to fully develop the skills to read, a child must be given the opportunity to practise a range of skills that lead overall to a clear understanding of a text: Decoding the letter combinations and sounds that form unfamiliar words to aide reading proficiency ( accurate recognition of 97% of words), Fluency when reading with speed and accuracy, Word Meaning must be fully understood leading to ultimate Comprehension of a text and its various modes and layers of meaning.
As a school we are committed to both encouraging students to have the opportunity to read, as well as supporting them in strategies to be able to read proficiently according to the skills required in their various subject disciplines. We will be continuing to develop our practice in Disciplinary Literacy this year, please speak to one of the leaders of the 4Cs CLT  for support with this, however, please try to do the following:
Check each child's reading age in your class on Edulink and ensure texts are modified accordingly (ATOS text reader, rewordify)
Model reading fluency and decoding to the students by reading aloud as well as using 'Control the Game'
Provide opportunities for reading comprehension in class and for homework, using and adapting the 'Reading Smarter' grids, 'High-Five Reading', and 'Reciprocal Reading' strategies
Explicitly teach vocabulary to students using the 'Frayer model' and 'SEEC Model' use spelling & vocabulary tests – more to come on this
Encourage students to infer the meaning of texts aloud, "It says…I say…So…"
Promote reading for pleasure both within and beyond the curriculum e.g. 5 books to read if you love …
Use a range of academic reading tasks and materials for homework in order to have reading support your course/ unit progression.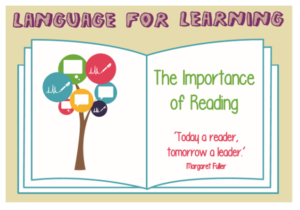 You can find more detail regarding these on the Xavier L&T website.