DEVELOPMENT OPPORTUNITIES
We are committed to providing staff with the very best opportunities for professional development, no matter what stage of their career they are in!
Staff in their first few years of teaching are supported through the 2-year ECF programme and our supplementary Year 3 provision. Further professional development opportunities are varied and include: internally-led CPD workshops, learning group (LG), best practice visits, Collaborative Learning Teams (CLTs) and research projects as well as external leadership programmes such as the SSAT Leadership Legacy Project and NPQs. All staff are also encouraged to make use of the National College, where they can access an array of webinars and courses tailored to their specific CPD needs.
Emily Cavell is in charge of Learning and Teaching as well as Staff Development; she is the person to see if you require any support or have any questions about your professional development. If there is a particular external CPD opportunity that you feel it would be beneficial for you to attend, please see your line manager to discuss it before completing the Professional Development Application Form (available to download from the School Hub). This form must also be filled in by support staff.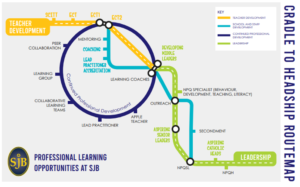 LEARNING COACHES
Every member of staff has a Learning Coach to support their personal development. There will be one Learning Coach linked to each department and whilst working with you individually to coach you in relation to a personally identified aspect of pedagogy, they will also work with Curriculum Leaders to support the departmental learning and teaching aims.  Chris Wall oversees this team so please speak to him if you have any questions.  There is an online portal to record observations and reflections.
PART-TIME STAFF
We do have some part-time staff.   We try to be as flexible as possible given people's personal circumstances.   For this to work best there needs to be give and take.  Part-time staff are expected to attend the proportion of INSET days that they work. If an INSET day falls on a day that you would normally work then you are expected to come in but should it fall on a day that would normally be your day off then you may come in and either take a day off in lieu, get paid for it or stay at home – your choice.   Certain dates are really important e.g. all part-time staff are asked to attend the INSET day on Monday 4th September 2023.
Part-timers are expected to attend all meetings on the days they are in school but obviously there is 'give and take' depending upon personal circumstances.   Part-time teaching staff are asked to go to check the cover board in the morning in case they are required to cover registration.
PERFORMANCE MANAGEMENT            
Performance management at SJB uses a 360 process where self-evaluation, staff feedback and reflections on the year are all discussed and new targets are set. For teaching staff it happens in June/July each year. For support staff it is in Jan/Feb. We try to make the process as simple as possible and reduce the amount of time required by both parties. All new staff will meet with their line manager in September to set targets for the year ahead.
The feedback meeting is a good opportunity to discuss how the year has gone for you with your line-manager and what further support or CPD/training you may need to continue to develop. For those staff on UPS or at the top of the main scale, the process is a good way of providing the necessary evidence of wider contribution to the school, required to be on (or move up through) UPS. It is also an opportunity to thank you formally for all you have done over the year, the many ways you have contributed to the SJB community and the support you have provided for students and other staff.
The starting point for all 360s is the individuals self-evaluation. This is an opportunity to reflect on all the things that have gone well over the year and what has contributed to the successes; it provides an opportunity for celebration and recognition. Alongside this, there is a chance to learn from the aspects that haven't quite gone to plan or where an individual feels there is room for improvement and set targets for the year ahead. Where an individual requests or a line manager deems helpful, we may ask for feedback from other staff or students in advance of the 360. We hope that it is a positive experience for all involved!
The aim is to provide a more personalised process and allow staff to focus more specifically on areas in the self-evaluation, gathering of feedback and 360 discussions that are more appropriate to the time spent in the role.
ECTs are not part of the 360 process as they complete their review as part of the ECT programme.
STAFF INDUCTION
There is a full staff induction programme for all new staff and ECTs.  Anna Dwyer is responsible for new staff and their induction – all new staff will have been in contact with Anna already!  All new staff are allocated either a buddy, a mentor or a coach depending on their role to help them settle into life at SJB.  Rachel Davis is in charge of ECTs. Pete Bergin is in charge of Trainee Teachers.
Below is a letter from our most recent ECT to all the new ECTs:
Dear SJB ECTs,
Welcome to SJB – we hope you enjoy your year ahead! Our top tips for surviving the ECT year are as follows:
Make as many friends as you can. People at SJB are so friendly! Use the other ECTs for both professional and personal support but also go to the staffroom at breaktime and lunchtime to talk to all sorts of people.
Trust in the people around you (mentor, professional tutor, HODs and HOYs) and lean on them for support. They will always have your best interests at heart!
Teach the way YOU want to teach. Take ownership for your classes and their learning and be confident sharing your ideas and resources with the department – remember that you are likely to have the most up-to-date training and the most frequent CPD! Don't be afraid to share your amazing-ness.
Observe a range of people with different teaching styles. This will help you gather a range of ideas and work out who you want to be. 
Choose reflective journals that are useful rather than just to tick boxes. If you pick things you enjoy and genuinely want to improve on, you'll actually find them enjoyable and therefore improve your teaching with ease.
Get involved with extra-curricular clubs and activities. It's so great to see the students in different lights. Get to know as many students ASAP.
Eat properly! Make lunch or plan lunches and if you end up in the canteen – pay off your Scopay account!!
Learn to say no and don't try and do too much too soon. Put time aside for yourself on evenings and weekends. Keep your own hobbies. Have a laugh!
We are always here if you need us – and are proof you WILL survive!
Love,
SJB ECTs xxx