Our Catholic ethos requires and inspires us to seek to develop our young people to be of service to God, one another and wider society. To achieve this requires:
A curriculum that stretches, challenges and inspires.
A wider curriculum that does not simply focus on academia but stretches beyond the confines of the traditional classroom.
Core values that seek to promote dignity and justice for each individual and inspires each student to embody the Gospel values.
We want our students to…
Deepen their relationship with God
Love learning
Achieve their academic potential
Have a wide range of experiences both in and out of the classroom
Grow into happy, confident, resilient and articulate young people
Leave SJB equipped to lead fulfilling lives and make a positive contribution to society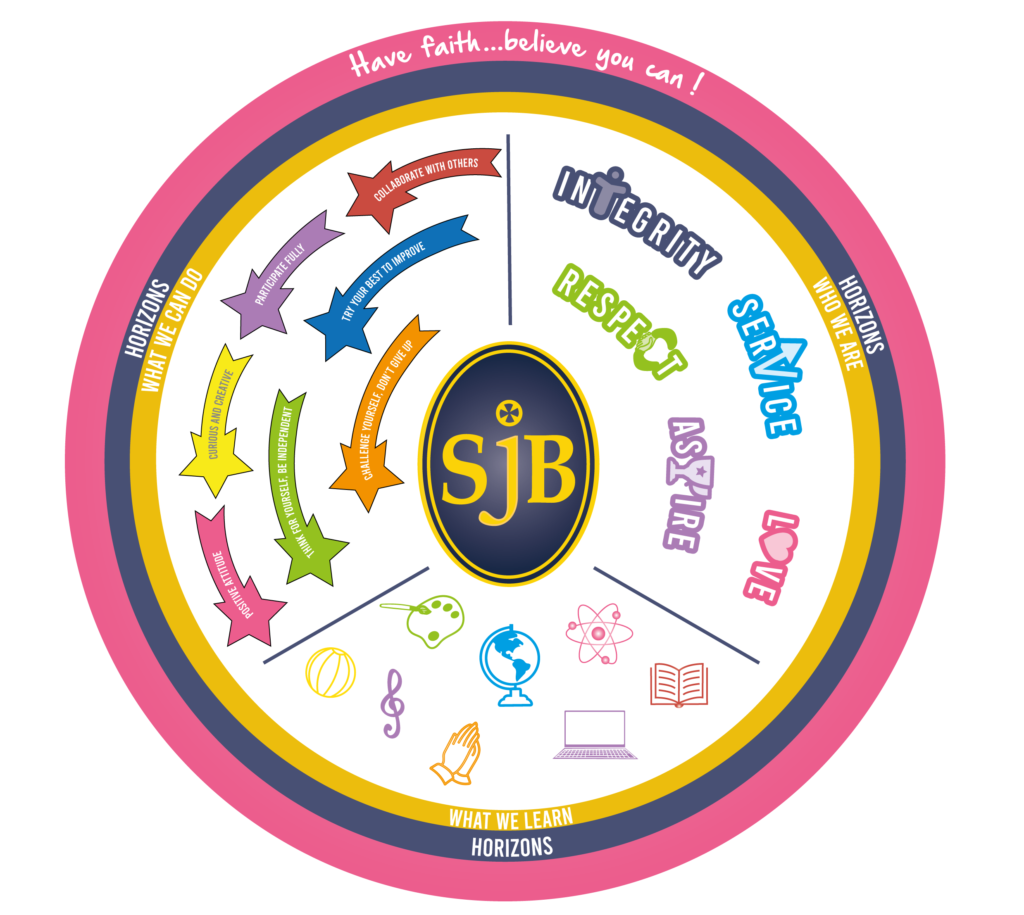 Who we are
These are the 5 core values we seek to instil in all our students. They are:
Integrity
Love
Respect
Aspire (Aspiration)
Service
You can find out more about each of them here.
What we learn
Our curriculum:
Is underpinned by our motto "Have Faith…Believe you can!" and supports the students in growing their faith: in God; in themselves; and in each other.
Raises students' aspirations, challenges and equips them with the knowledge and skills to flourish in their future careers.
Is inclusive, well designed and coherently sequenced in order to establish a strong foundation for all students.
Is rich, inspiring and as broad as possible.
Provides students with opportunities to take the curriculum beyond the classroom to develop independence, creativity and a love of learning.
Offers a wide range of opportunities for students to take ownership of and personalise their curriculum in order to develop existing talents and interests as well as discover new ones.
Fosters the development of character, communication skills, health and wellbeing in order to thrive beyond SJB.
Delivery of our curriculum:
Embraces the concepts of 'teaching for mastery' and 'quality first teaching'.
Focuses on building both knowledge and skills over time.
Engenders high expectations of all students.
Strives to build students' resilience, confidence and self-belief.
Is delivered by subject experts and underpinned by evidence-based practice.
Actively encourages making mistakes as part of learning.
Uses assessment to help students embed and use knowledge fluently, check understanding and inform teaching.
Ensures feedback is regular and concise so that students know their strengths, next steps and are given opportunities to address them.
Utilises the latest technology to support learning and ensure all students develop their digital literacy.
Develops students' literacy skills.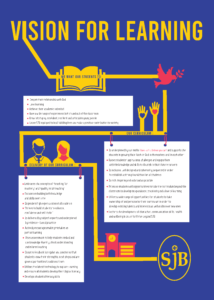 What we can do
These are 7 learning behaviours that we actively seek to develop and reward in all our students – the Student SJB 7.
Challenge yourself, don't give up
Positive attitude
Curious & creative
Think for yourself, be independent
Participate fully
Collaborate with others
Try your best to improve